The History of Miller's Farmstead
In 1823, John Miller built his hotel and tavern at the corner of the Pike and Spickler Road.  It was one of the original stagecoach stops along the new National Pike.
T.B. Searight wrote of this well-known spot in 1894, "There were large rooms adapted to dancing purposes, and young men and maidens of the vicinity frequently tripped to the notes of the old time music in its spacious halls.  The waltz was unknown and the figures varied from the 'hoe down' to the cotillion, closing always with the 'Virginia Reel.'  The old waggoneers were invariably invited to participate in these festivities, and engaged in them with a gusto not excelled by the lads and lasses of the surrounding Clear Spring neighborhood."
In 1864, the Miller's Farmstead location was the site of a Civil War skirmish.  It happened when Confederate General John McCausland planned to march from Clear Spring to Chambersburg via Mercersburg, PA.  Confederate Major Harry Gilmor led 200 men on a diversionary route along the National Road, creating the impression the main strike was to be against Hagerstown.  At Spickler's Hill, near Miller's Farmstead, Gilmor ran into an ambush from the Union army.  The east wall of what was then Miller's Tavern still bears the marks made by the bullets and a cannon ball from the skirmish.  (From the Blue and Gray Magazine, August 1994)

Miller's Farmstead Today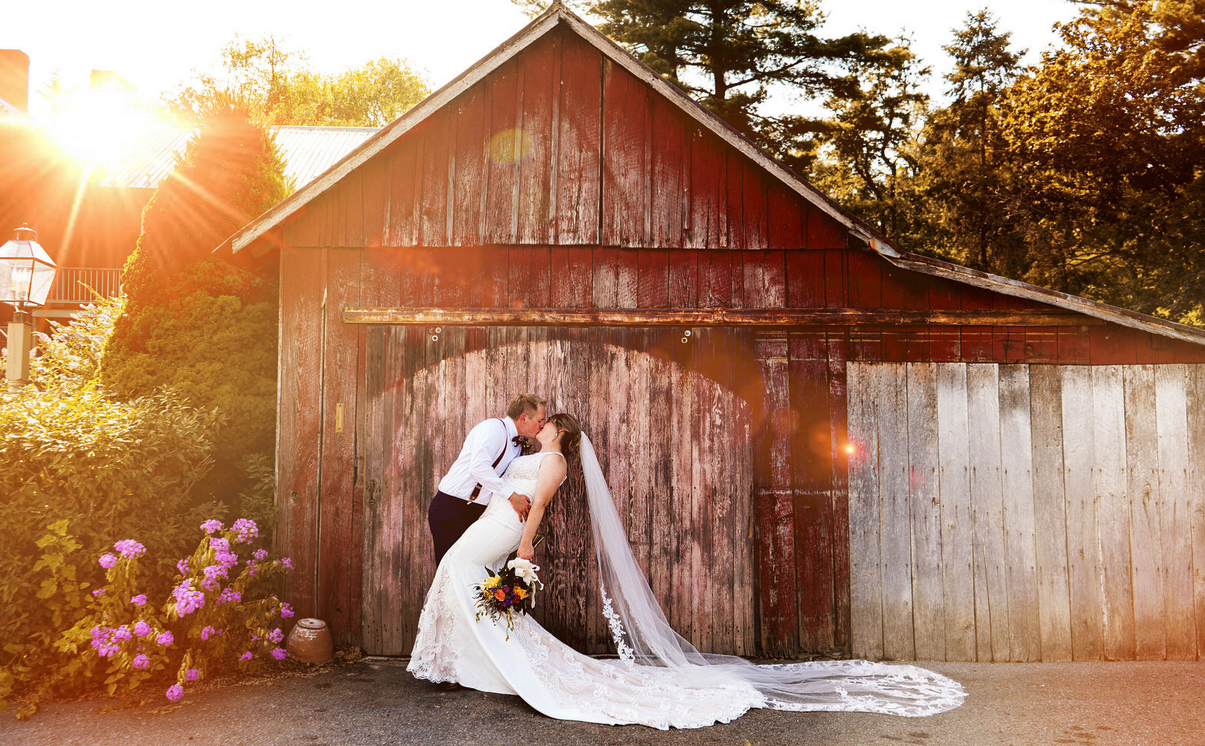 In 1992, this historic property was purchased by David and Elizabeth Miller. The previous owners, the Bloyer family, owned it for nearly 60 years. Restoration of the house and grounds began immediately and over a period of years, the property was restored to the beautiful property you see today. In 2002 the property was named Miller's Farmstead, in honor of the original builder, John Miller – and the hard-working man and current owner, David Miller, who brought the property back to life.

Today, the property serves as the perfect wedding venue - and a perfect way to start your life together.

If you would like a tour, or have any questions about available dates, please call or text Elizabeth Miller at 301-842-0330.

What People Are Saying About Miller's Farmstead
"Miller's Farmstead is accommodating, responsive and helpful! They go the extra mile to ensure your event is a huge success. I would ABSOLUTELY host our next event here. Deb is kind, caring and attentive to detail - she is rare gem. I cannot say enough positive about this venue! It offers the comfort and flexibility of hosting as if it is your own home, yet the support of having a venue. I am SO impressed." ~ Erin Kretzer
"Best venue ever! Everything was so beautiful and great location." ~ Cindy White Harkom

"We are still so thankful we picked to get married at Miller's Farmstead. Debbie was wonderful to work with!" ~ Kayla Harkcom
"We love it there! I'm so glad we chose your venue! The coordinators are amazing! Kristi and Deb are so good at what they do, they're the glue that holds everything together on wedding day! We loved working with you and I'd totally do it over again! Highly recommend!" ~ Jenna McCoy
"Definitely would recommend this venue for anyone planning a wedding - absolutely gorgeous! Elizabeth and Debbie make everything seamless for the new couple. 5 stars for sure!" ~ Sherry Martz
"I cannot say enough about Miller's Farmstead. Their hospitality, attention to detail, friendliness, and love for the bride and groom are magnificent. My husband and I had to postpone our wedding from May to August of 2020, and Elizabeth Miller was just so accommodating during the stressful time of uncertainty. We ended up working with not only one wedding coordinator - but two. Therefore, we can attest that both Krista and Debbie are amazing at what they do! They were always there when we needed them. They are dependable, have beautiful ideas, they make you smile, and help in every way they can. Krista had such great inspirational ideas and called me to keep me updated on anything new and exciting. One particular phone call showed how much she cared. Months before the wedding I had wanted cocktail tables for guests. Krista called me out of the blue to tell me that Millers had wooden barrels and we could use them as our tables. We were thrilled! It meant so much to us that they were willing to help us and made our lives easier. Than I remember Debbie checking up on me (multiple times) on wedding day in the farmhouse. Her presence and asking if there was anything she could do for me meant so much. I just felt assured everything was going accordingly "behind the scenes" and I could just sit and be a bride. Not only were the coordinators wonderful but also the owners. We are so thankful for you being there before, during, and also after our special day. You made us feel like part of the family. Everyone kept the grounds so neat, mowed, clean, and in tip top shape. The newly renovated bathrooms are amazing too. You did such a great job. Millers always goes above and beyond. We thank you for being a part of our life and our wedding." ~ Benjamin and Kimberly Harbaugh
"Having my wedding at Miller's was an absolute dream. The venue is gorgeous, the wedding coordinators made everything less stressful. Definitely recommend having your wedding, party or get together at Miller's Farmstead." ~ Krista Shoemaker